Residential Solar Panel Cleaning in Sacramento, CA.
Suns Solar Cleaning offers solar panel cleaning  in Sacramento for residential and commercial properties to help keep panels producing efficiently. 
Here is How We Clean Your Solar Panels
Our Solar Panel Cleaning Services Include:
Sacramento Solar Panel Cleaners You Can Count On
Here at Suns Solar Cleaning, We realize that we are cleaning an investment that is considered one of the largest purchases a homeowner will ever make in their life. To some solar panel cleaners it may not be a big deal, which is why many will simply spray down your panels with your garden hose, throw some soap on, and brush it off like it's another day at a car wash.
But not us…
We know that using hard water with soap on solar panels can potentially void your warranty, build up calcium deposits that corrode your panels, and leave behind snail trails in micro-crack areas.
This is why we only use softened deionized water with our industry-leading, solar cleaning brushes to safely get all that gunk off your panels so that you can get the most energy output out of them without having to worry about a thing.
You can also be at peace knowing that we are a licensed, bonded, and insured Sacramento business that knows how to professionally clean your solar panels.
What Customers Are Saying...
"Had this company come out today and clean my solar panels. They showed up on time and did a heck of a job on my panels ( over 40 solar panels). These guys took their time and left our panels spotless. Our panels were filthy, first time getting them cleaned . Can't wait to see how much more efficient my panels will be now ! Highly recommended! 5 stars. Thank you guys"
"There is only one word for this company and that is GREAT. In these times we live in it's nice to do business with real professionals. They speak intelligently, they show up when they say they will and best of all they do a great job for a reasonable price. Use them if you need your solar panels cleaned. Dirty panels don't operate at 100%."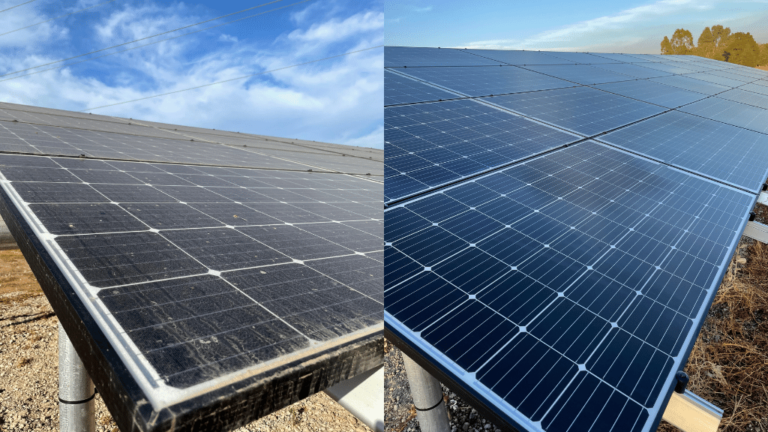 "Professional service. Came in on time and took care of my 36 Solar panels. I was hesitant at first but after seeing the results it's unbelievable. Now I'm getting about 20 to 30 percent more power from my panels. Even though they are 2 years old they made them look amazing. I Will most likely get them to clean my panels every year.. Thank you Sun's Solar Crew. GREAT JOB."
Frequently Asked Questions
How much does solar cleaning cost?
Depending on the size of your property, story count, and panel count, you can expect to pay anywhere from $100-$350 for a residential property.
What kind of solar panel cleaning equipment do you use?
We use industry leading commercial solar cleaning equipment such as our Sola-Tecs Series C Brush, a commercial grade generator and deionizer.
Do you clean tesla home solar panels?
We clean all kinds of panels from different companies such as Tesla, Sunpower, Sunrun, and more!
Which areas do you service?
Suns Solar Cleaning services the Greater Sacramento region including a large portion of Placer County and El Dorado County. Please See our list of service areas below.
Got paint on your solar system? We can help! Suns Solar Cleaning offers paint overspray removal services that doesn't involve the use of any harsh chemicals or a paint thinner on photovoltaic cells. We get paint overspray removed safely and effectively so that your solar panels look new again and produce with higher efficiency.
Bird Proofing Barrier Installation
Do you have a problem with pesky pigeons nesting on your roof and under your panels? Our bird proofing service was created to help protect your investment. First, we start off by safely removing any live birds and nests from underneath the panels. Then, we clean under and around the panel areas to remove the roof of any bird poop. Finally, we install a galvanized steel net to protect your investment from pigeons and other critters. Our bird proofing nets clip on to the side of your panel without ever having to do any drilling or glueing.
Here's the truth about washing your solar panels.
Have you ever wondered if your solar panels really needed to be cleaned or not? Many solar installation companies will tell you that solar panel do not need to be cleaned since the rain will be able to clean most of the dirt off.
Although rain may be able to slightly improve the efficiency of your panels, it is simply not enough to get the panels producing at the capacity they should be when properly cleaned.
In climates such as California where most areas produce very little rain fall and dust builds up quickly, it is highly recommended that every solar panel gets cleaned at least every 6 months.
Dirt, grime, and other particles can build up on your solar cells which reduces cell exposure to UV rays and produces less energy for your property.
One case study done by Google showed their solar panels had lost fifty percent of their energy production after not being cleaned for 15 months. After cleaning them again 8 months later, they discovered that their panels had regained 36 percent of their energy production.
It is widely known throughout the industry that most residential solar systems lose anywhere from 20-40 percent of their efficiency on average if not cleaned regularly.
In short, it is important to wash your solar panels frequently to properly maintain your panels and ensure they are operating at their highest capacity.
So the question is: When was the last time you had your panels cleaned?
Our company is able to clean solar panels professionally and safely so you don't have to risk your life climbing on the roof yourself in order to keep your investment shining and your energy efficiency up.
Should You Clean your Solar Panels By Yourself?
Have you ever wanted to clean your solar panels by yourself but weren't sure if you should? It might look simple at first glance, but there are a lot more factors involved in a proper cleaning. For homes that have a panel which is out of reach, homeowners take on the risk of having to climb on their roof in order to get a thorough cleaning. Without specialty safety equipment, they become prone to injuring themselves or damaging their property. We recommend using an extended water fed cleaning brush to clean the solar system from the ground if possible. It may sound easier to just get any old brush and a water hose for your cleaning, but then you take on the risk of scratching your panels and leaving behind mineral deposits on the panels from hard water. In addition, many push brushes leave behind trails of dirt after the cleaning which doesn't get the full effect of the cleaning. It's important to use water that has been softened through a deionizer tank to prevent leaving any water spots or leaving behind build up. We recommended that you do not use any soap or chemicals to prevent voiding your warranty. Many solar panel companies will void a warranty on a system that have been cleaned with soap because of the potential for micro damage. Soap also can leave behind a thin layer of residue that shades the panels and even attracts dirt to stick to the soap residue, making it harder to clean in the future. The benefit of cleaning solar panels by yourself is that you do save money. You don't have to pay another company to do it when you can do it yourself. As you can see, there is a lot that goes into this type of work. However, If you know how to stay safe on your roof, have the proper equipment, and don't mind the extra time it takes, then a do it yourself cleaning may be the right approach for you.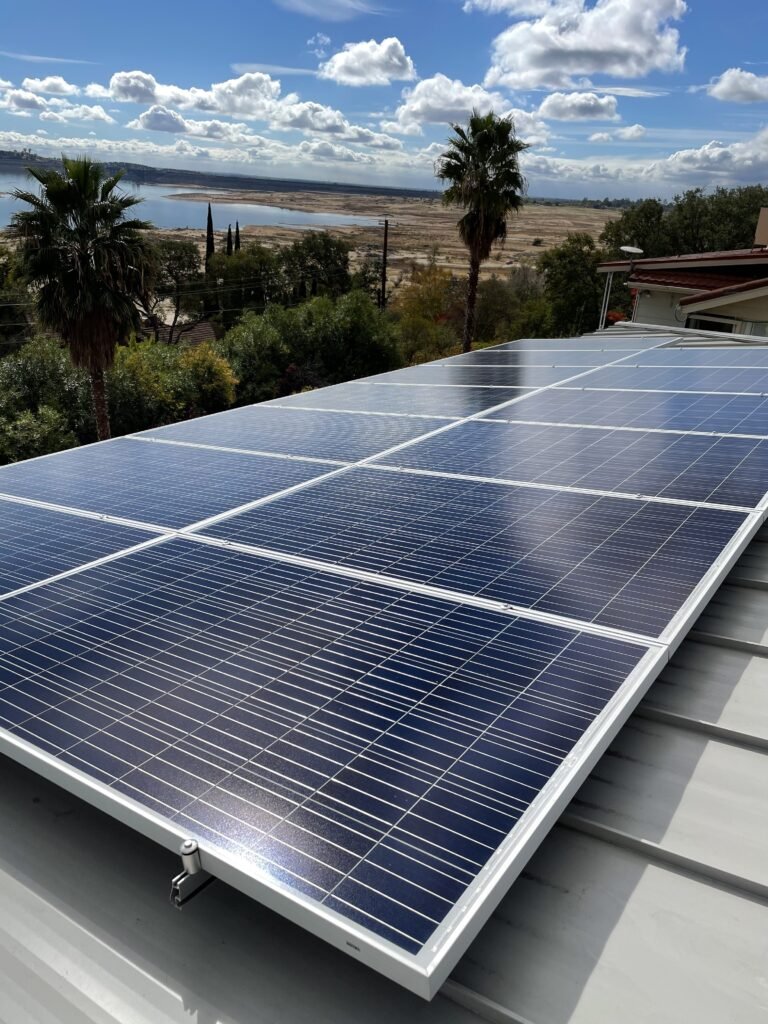 Contact us today to discuss any questions or get a quick quote.